Brevard County Chiropractor Located Near Rockledge & Cocoa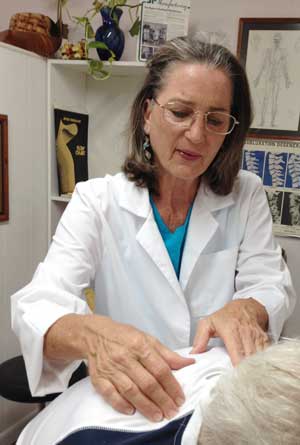 Our goal is to provide both answers to your questions and give you the most effective treatment options. In order to do this, we provide a tour of the facility, a brief consultation and a preliminary examination to determine first if your condition is appropriate for chiropractic treatment or one of our other services.
If we accept your case, we will then take a thorough history and do further testing to determine the cause of your pain or health issue. Our goal is to provide long lasting relief so a thorough review of your issues is very important.
Chiropractic treatments have been promoting wellness for over 120 years
While the idea of chiropractic treatments for various ailments and pain conditions may be new to many residents of Brevard County or Florida, the practice has been thoroughly and substantially developed.
Back Pain Relief
There are many causes of back pain. Disc problem? Arthritis? Nerve impingement? Ligament sprain? Muscle strain? All of these can be helped with chiropractic. Our most enjoyable success stories involve those patients who have been told that "there is nothing more that can be done" or "you'll have to learn to live with it". These patients are now back on the tennis court, water-skiing, or enjoying that walk on the beach.
Relief of Joint Pain
When you think of a chiropractor, typically most think of us as "back doctors". Because of my post-doctoral training in extremity work (arms and legs), I can help you with that bad knee, ankle, foot, wrist, elbow and shoulder. Specific orthopedic testing I provide can determine what is causing the problem and how to treat it. Tendonitis, bursitis, sprains/strains and joint dysfunctions usually respond to treatment with relative ease.
Sigma Ultralign G2
This is the finest and most advanced in computerized adjustment technology a chiropractor can provide. It doesn't hurt. There is no "popping or twisting". A perfect solution for those who need chiropractic care and have been afraid to try it. Because of this unique technology, many conditions can be treated besides neck and back pain. Due to the specificity of the instrument, this allows us to successfully treat many musculoskeletal and neurological conditions. A few of the more common conditions include, rotatory cuff injuries, bursitis, headaches, carpal tunnel, TMJ, and plantar fascitis. If you have a condition that is not listed here, give us a call. The list is extensive.
Traditional Chiropractic Manipulation
Cox Distraction, motion palpation, diversified, SOT, activator...
There are many manual techniques we employ in addition to the computerized technology. Examination will determine which would be the best for you. Of course, you always have an input into which technique gives you the best result. Your feedback is essential with any treatment you receive here at Wesley Chiropractic & Acupuncture.