Acupuncture Promotes Health and Balance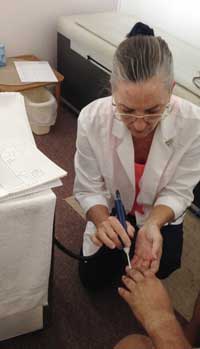 Acupuncture's goal is to restore normalcy to the body's energy balance by utilizing a combination of Acupoints. Our office uses PAINLESS electronic micro-current stimulation to attain this goal, no needles! For those who prefer the traditional acupuncture, we utilize single-use disposable needles.
Acupuncture textbooks list well over 1,000 different conditions that respond well to acupuncture.  The World Health Organization, working in close harmony with the International Acupuncture training center of the Shanghai College of Traditional Chinese Medicine, has indicated acupuncture is effective in the following conditions:
Acute and chronic pain relief, migraine, tension, cluster and sinus headaches, trigeminal neuralgia, bladder dysfunction, bed-wetting, cervical (neck) pain, upper and mid-back pain, low back pain, sciatica, osteoarthritis, sprains and strains, frozen shoulder, tennis elbow, post-operative pain relief, gastric problems, asthma, allergies, skin conditions, various eye and ear problems, etc.  This is only a partial list of the numerous conditions acupuncture has been credited with helping. 
It must be remembered acupuncture treatment is only one of four main aspects of traditional Chinese healing.  Herbology or nutrition, manipulation of the spine and joints and psychotherapy are always addressed as well.  Under these four main headings of treatment there are detailed and multiple approaches which can be used to attain health and balance.
Electro-Acupuncture, No Needles!
Electronic acupuncture was developed in the 1930's and 1940's. When President Nixon went to China in 1972 opening up the lines of communication for the first time with the east, the journalists brought back videos and news releases of only "needle" acupuncture because of the "WOW" factor it portrayed for the American public. If you think of needles when you think of acupuncture, you know your knowledge of acupuncture came from the news articles associated with this trip in 1972.
Come for a tour of our facility. You can see for yourself how acupuncture treatment with no needles has been utilized for over 80 years. Laser acupuncture is also available and has been utilized for the last 30+ years.